AMAZON TOP 10 BESTSELLING CRIME WRITER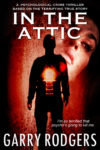 In The Attic is based on the terrifying, true case I investigated where a psychopath, Billy Ray Shaughnessy, hid in his ex-girlfriend's attic for 2 & 1/2 days with an ax before climbing down at 3 am and slaughtering Maria Dersch and her new lover. It's graphically told from my first-person narrative as well as through Billy Ray's thoughts as he lurked, eight feet above, and waiting to kill her. Get In The Attic on Amazon.  Click Here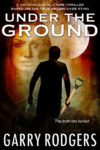 Under The Ground is based on a true crime story where we ran an elaborate, undercover operation on a guy who murdered his girlfriend and buried her body. It's a psychological thriller and tells how the undercover team, with guidance from the Behavioral Science Unit, sucked the killer into a fictional world of organized crime through the "Mister Big" sting. The killer confessed and led us to dig up the body. Where it was — truly shocking! Get Under The Ground on Amazon.  Click Here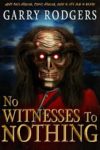 No Witnesses To Nothing is the first in the Sharlene Bate Crime Thriller Series. It's based on the true story of the Teslin Lake Incident where many believe paranormal intervention occurred as well as the infamous informant murders. It reached #5 on Amazon's Bestseller list, sandwiched between Dean Koontz and Stephen King. If you're a fan of either Koontz or King, you'll love No Witnesses To Nothing.  Click Here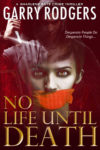 No Life Until Death is the second crime thriller in the Sharlene Bate series. It's set in Vancouver, Palo Alto, California, as well as in the Philippines and involves the black-market world of international trafficking in human organs. Its tagline is "Desperate people do desperate things" and asks "How far would you go to save your child?" No Life Until Death is available in eBook format on Amazon.  Click Here
Sun Dance – Why Custer Really Lost the Battle of the Litle Bighorn

examines the phenomenal effect American Native spiritualism had on the Lakota Sioux and Northern Cheyenne warriors during one of the most important conflicts in United States history. Historians have spilled more ink than combatants did blood over reasons why most of the 7th Cavalry under Lt. Col. George Armstrong Custer were wiped out. You'd think there's no need for another Custermania book, but that's wrong. I can't find any published work on the effect Chief Sitting Bull's sun dance ceremony had on psyching his warriors with an overwhelming will to fight and win. Sun Dance takes a thorough look at the history leading to the Battle of the Little Bighorn in 1876 and the fallout plighting American native people since. Email me for an Advanced Reading Copy.
*   *   *

How To Write Deadly Crime Thrillers – A No BS Guide with 101 Killer Tips    Click Here
How To Self-Edit Deadly Crime Thrillers – A No BS Guide with 101 Killer Tips   Click Here
*   *   *

How To Blog For The Huffington Post – 21 Proven Tips For Getting Published on the Huff
How To Blog For The Huffington Post – 101 Proven Tips For Getting Published on the Huff
*   *   *
I'm so terrified that psycho's going to kill me!
Maria Dersch prophetically predicted her death at the savage hands of her ex-boyfriend, Billy Ray Shaughnessy, who hid in her attic for two and a half days with an ax before sneaking down in the dead of night, chopping Maria and her new lover to death.
In The Attic is an intense, shocking, and unforgettable psychological crime thriller based on the horrific, true murder case Garry Rodgers investigated as an actual detective.It's also told from the killer's point of view through his lyrical, psychotic, and homicidal thoughts.
In this lightning-paced, mind-twisting, psychological ride, you're suspended in a six-day investigation and search for Billy Ray after Maria reported a violent, knife-point, sexual assault committed by him on a Friday afternoon.
Over the weekend, police and friends made a frantic attempt to lock Billy Ray from the house and track him down to prevent escalation. They failed. He'd been in the attic the entire time.
At 3 a.m., on Sunday morning and in the black of night, Billy Ray climbed down. He butchered Maria and her defenseless lover, committing unspeakable desecration to their bodies. Billy Ray aimlessly left the crime scene—a senseless scene sickening to the hardest of investigators—and was caught three days later, still caked with his victims' blood.
Billy Ray confessed, allowing a terrifying yet fascinating access to his psychopathic, anti-social mind—a mind diagnosed as one of the most outstanding cases of mental disorder a team of forensic psychiatrists ever saw.
Here's what readers of In The Attic are saying:
"Aghast! This is one of the best written and easily the most horrifying suspense story I have read. The writing is so clear and so compelling that you are immediately drawn in. I. Could. Not. Put. This. Down."
"The author's seamless POV transitions are genius. You're given a disquieting look into the deeply disturbed, misogynistic psyche of a killer and the concern of a dedicated, seasoned police officer."
"As events unfolded, I found myself praying the victim would somehow survive, which is absurd, as you know going in, the story is about a double murder. Garry Rodgers' writing is so fluid, he places you in the detective's shoes without effort—you're there, you're experiencing scenes as they unfold. I'm not prone to nightmares by something I've read, but Garry Rodgers has succeeded where others left little, or no impact."
"Do not let the horrific and graphic nature of this novel dissuade you. This is a must-read for crime novel enthusiasts. I felt driven to finish this book in record time. True story, great writing, emotional investment. What more could you want from a title?"
"In my opinion, Garry Rodgers is slated to become one of the most outstanding crime writers of our time."
"If you've ever read The Widow by Fiona Barton or The Girl on the Train by Paula Hawkins, my feeling while reading In The Attic was akin to my feelings while reading Widow and Train. I don't just think it's a great read, I think it's an important story—of mental illness, abuse, and how the limitations in social services can sometimes coalesce at the wrong moment, hurting all involved."
"It sounds like a cliché, but I couldn't put it down. I was gripped from the first sentence, and was not so much reading as inhaling the story until it was done. I took a long, cathartic shower to get my head back in my own world, so I could write sensibly about my experience as a reader of this gripping story."
"No awareness that I was reading a book, but more like I was a fly on the wall."
The Truth Lies Buried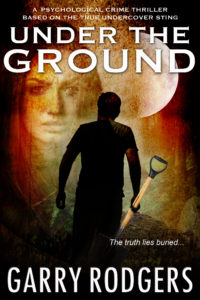 Under The Ground is a psychological suspense thriller based on the true crime story of Kristen Madsen—a troubled eighteen-year-old victim last seen with her ex-boyfriend, Esa Raasanen in a small city on Vancouver Island at Canada's southwest coast.
When conventional police procedural techniques fail to find the buried truth in the mystery of Kristen's disappearance, a highly-complex criminal undercover operation is set upon Esa, slowly sucking him into a fictional—yet completely believable—world of organized crime run by a shadowy figure known only as The Boss.
The truth is uncovered through a sophisticated psychological manipulation of Esa, carefully planned and scripted by a Royal Canadian Mounted Police undercover team who developed the amazing Mister Big Sting. Forensic psychologists from the RCMP's renowned Behavioral Science Unit who teach the truth-gathering technique to police departments worldwide oversee the murder investigation.
Under The Ground sweeps you through the emotional turmoil in an abusive relationship to the high-rolling lives of convincing "criminals" who preyed upon Esa's lust, greed, ignorance, and brutally violent, psychopathic personality.
With skillful handling and focused purpose, Jake the lead undercover operator, builds a trap for Esa Raasanen which can only be escaped by confessing to The Boss what truthfully happened in Kristen Marsden's murder.
Where she lies and what he'd done shocked the entire investigative team of detectives and undercover operatives.
Under The Ground is based on a true crime story and written by Garry Rodgers—a retired homicide detective and forensic coroner, now Amazon Bestselling author. Here is what readers say about this psychological thriller of suspense and mystery:
Garry Rodgers' "Under the Ground" is another gem in his canon of True Crime books. Like "In the Attic", it is a fast-paced "page turner". However, "Under the Ground" also reveals the lengths to which the detectives and police force went to catch a vicious murderer. Their psychological manipulation of the murderer was ingenious – and will be of great interest to True Crime buffs, like myself. I highly recommend "Under the Ground" to fans of the True Crime genre – and to readers of quality non-fiction books everywhere.
What Goes Around Comes Around – Both In Life And In Death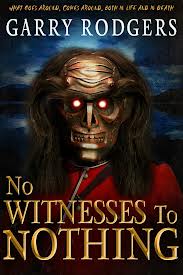 In No Witnesses To Nothing Sergeant Sharlene Bate of I-HIT, Vancouver's Integrated Homicide Investigation Team, pries open Pandora's Box when a drug informer is executed on British Columbia's Gulf Islands, exposing an identical hit on a second informant in Canada's Yukon… and a tragedy where two young police officers attempt to capture a madman terrorizing that wilderness.
No ordinary madman, the Tlingit people say. It's The Kushtaka. The Wildman-of-the-Woods. The mythical being who tricks you, kills you, and steals your soul. Sergeant Bate exhumes more of the Aboriginal legend: After a gun-fight with the shapeshifter, the officers' souls are trapped in a twilight zone – the world in-between.
So begins a life and death quest for the truth of why the informants had to be murdered. From the treacherous Hells Angels cocaine conspiracy in the prisons of America and the jungles of Colombia – to the spiritual journey in a Shaman's sweatlodge, deep in the Australian Outback – is there a supernatural entity now hunting for Sharlene Bate's soul?
Get No Witnesses To Nothing.  Click Here
Desperate People Do Desperate Things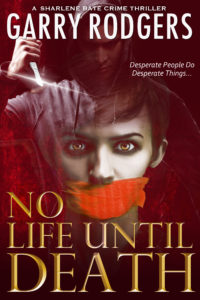 There's No Life Until Death. Outwardly, Inspector Sharlene Bate of I-HIT, Vancouver's Integrated Homicide Investigation Team, has her life back on track. Shining career. About to remarry.  And a healthy, thirteen-year-old daughter named Emma.
Inwardly? Sharlene Bate knows different.
In Palo Alto, California, Abra and Darren Playfair's middle-class world is imploding. Their thirteen-year-old daughter, Molly, is dying from Atypical Hemolytic Uremic Syndrome—aHUS—now in end-stage renal failure. Her kidneys must be replaced.
Molly Playfair and Emma Bate have something else in common besides age—an AB Positive blood-type—one of the rarest on earth. Only matching organs will save Molly's life, forcing the Playfairs to hire unscrupulous scalpels in the Philippines and buy her a transplant through the underground world of human organ trafficking.
When Inspector Bate investigates a body found butchered and robbed of its organs, she's dragged into a ring of black-market harvesters operating in Vancouver and shipping parts to Manila—internationally targeting those with rare blood. Oblivious to desperate people doing desperate things, Sharlene Bate battles personal blackness while the traffickers stalk Emma.
Time runs out for Molly and Emma as Sharlene Bate and the Playfairs desperately fight to keep their daughters alive. One must die so the other can live. For the girls… there's no life until death.
How far would you go to save your child? Get No Life Until Death.  Click Here